Full Bar with the perfect draft menu!

A well-balanced showing of beers from all over including local favorites.

Beer Of The Month, $3.99 All Month Long!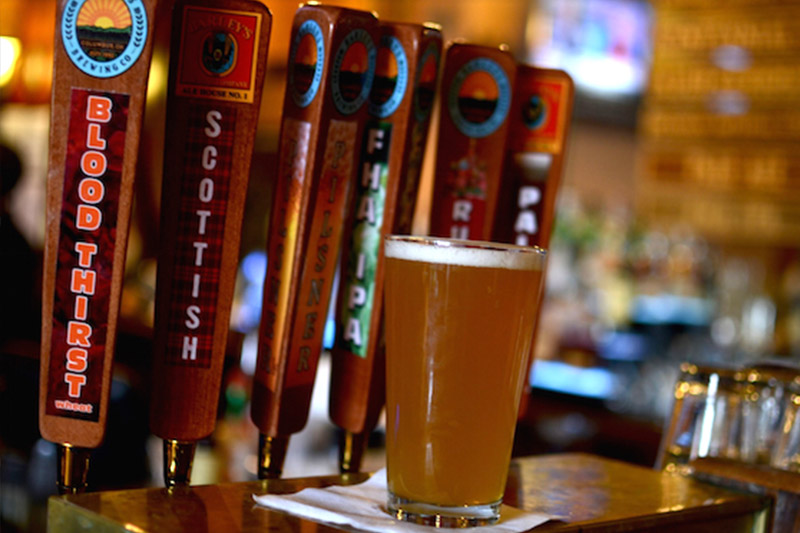 Barley's Blood Thirst Wheat
5.0%
(Wheat)
Barley's Brewing Company
Winner of our 14th annual Homebrew Competition in 2009. Lloyd Cicetti's Wheat Beer with Blood Oranges is a citrusy and supremely refreshing with floral notes thanks to Sicillian blood orange zest added to the brew kettle and puree added during and after fermentation. This hefeweizen has hints of fruity esters and spice from Bavarian wheat yeast.
1. Bud Light
(Lager)
4.2%
brewed using a blend of premium aroma hop varieties, both American-grown and imported, and a combination of barley malts and rice. Its superior drinkability and refreshing flavor makes it the world's favorite
light
beer.
2. Miller Lite
(Pilsner)
4.2%
When tasting a beer, focus on the initial flavors as well as how the beer tastes and feels after you swallow.
Miller
Lite has a hop forward flavor and solid malt character with soft bitterness. It's smooth with a
light
to medium body, and has a crispy, clean, dry finish.
3. Michelob Ultra
(Lager)
4.2%
Brewed using the finest barley malt, select grains, all-imported hops and a pure-cultured yeast strain. The special choice of grains combined with the extended mashing process produces a smooth, refreshing beer with fewer carbohydrates.
4. Labatt Blue
6.3%
(Canadian Pilsner)
The world's best selling Canadian Beer. Brewed with the finest ingredients including renowned Hallertau hops, 2-row malted barley and pure Canadian barley, Labatt Blue has a clean refreshing taste with distinct hop aroma, delicate fruit flavor and a slightly sweet aftertaste.
5. Guinness
(Stout)
5.6%
Medium and balanced. A roast character with subtle fermentation fruitiness. A perfect rounded flavor of bitter and sweet. Smooth with a slight bite leading to a dry finish. Distinctively black full bodied liquid with a rich creamy head
6. CBC Bodhi
(Double IPA)
8.9%
Columbus Brewing Co Bodhi (Double IPA)
An awakening of the senses by virtue of American hops. Pale golden in color, this double IPA showcases a unique blend of hops, highlighting the true nature of Citra.
7. CBC IPA
(IPA)
6.3%
Columbus Brewing Co
Our take on IPA pours pale orange with a balanced malt presence and finishes with a combination of grapefruit, pine, and tropical fruit notes from Pacific Northwest grown hops.
1. Bells 2 Hearted Ale
7%
(IPA)
Brewed with 100% Centennial hops from the Pacific Northwest and named after the Two Hearted River in Michigan's Upper Peninsula, this IPA is bursting with hop aromas ranging from pine to grapefruit from massive hop additions in both the kettle and the fermenter.
2. Bell's Amber Ale
5.8%
(Amber Ale)
Bell's Brewery
The beer that helped build Bell's Brewery; Bell's Amber Ale features both toasted and sweet caramel notes from carefully selected malts, balanced with herbal and citrus hop aromas.  Capped by a clean bitterness, it's incredibly versatile with food, but very tasty on it's own.
3. Leinenkugal's Berry Shandy
4.2%
(Lager)
Leinenkugal's
A twist on a Shandy. Each batch begins with our traditional Weiss beer that's mixed with blackberry juice and berry flavors giving it a subtly sweet and tart finish. It's a light, crisp and refreshing beer perfect for any season.
4. Brew Dog Elvis Juice
6.5%
(IPA)
An American IPA with a bitter edge that will push your citrus tolerance to the brink and back; Elvis Juice is loaded with tart pithy grapefruit peel. This IPA has a caramel malt base, supporting a full frontal citrus overload - grapefruit peel piled on top of intense us aroma hops. Waves of crashing pine, orange and grapefruit round out this citrus infused IPA.
5. Hazy Jane
7.2%
(Stout)
BrewDog
Hazy Jane is a Vermont Style IPA, with low background bitterness, loaded with intense juicy fruit character. Pineapple, stonefruit, mango, light resin and hints of lime peel - This juicy IPA is full-bodied and smooth, enhancing the soft ripe fruit flavours.
6. Barley's Scottish Ale
6.6%
(Ale)
Barley's Brewing Company
When we first brewed this beer we didn't know what would happen when we turned our brew kettle on while it was empty, in order to scorch the malt. We liked the results so much that Scottish has been on tap ever since.
7. Downeast Cider
(Cider)
5.1%
(Cider)
Inspired by freshly pressed cider from the farm - unfiltered for a full body and smooth finish.
8. Great Lakes Dortmunder
5.8%
(Lager)
A smooth, award-winning (and deceptively unassuming) balance of sweet malt and dry hop flavors.
9. Founders Raspberry Ale
5.7%
(Ale)
Founders Brewing Company
Optimizing the flavor of fresh raspberries, Rubaeus is Founders' way of celebrating the joys of summer year-round. This stunning berry-red masterpiece is the perfect blend of sweet, tart and refreshing. No question about it, this beer is 100% Founders.
10. Barley's Blood Orange Wheat
5.0%
(British Lager)
A citrusy and supremely refreshing with floral notes thanks to Sicillian blood orange zest added to the brew kettle and puree added during and after fermentation. This hefeweizen has hints of fruity esters and spice from Bavarian wheat yeast.
11. Homestead Tenpenny
5.4%
(Amber)
Homestead Beer Co. 
Tenpenny Ale balances sweet, caramel malt with a mildly bitter, fragrant hop nose. Underneath those flavors lurks a powerhouse yeast that contributes the classic ale ester profile rather than the too clean flavors in modern beer. Tenpenny Ale is unpasteurized and never filtered, it's beer the way it was intended to be.
12. Land Grant Beard Crumbs
7.3%
(Oatmeal Raisin Stout)
Land Grant
Beard Crumbs is a smooth dark stout teeming with notes of chocolate, coffee, and Packing an extra punch of holiday cheer via the addition of caramelized raisins. It delivers the joy of an oatmeal raisin cookie, minus the crumbly clean up. It's a festive ale that's bound to put the Scroogiest Grinch In the holiday spirit.
13. Ulysses Mocha Porter
5.7%
(Porter)
Homestead Beer Co.
We took the classic, roasted flavors from a dark European porter and combined them with cocoa nibs, cold brewed coffee and creamy lactose to create this full bodied beer redolent with deep coffee, chocolate, raisin and roasted notes.
14. Rhinegeist Cheetah
4.8%
(Lager)
Rhinegeist
Swift in body and mind, Cheetah sprints ever forward. A blur of pure instinct. Buena onda. Pure, crisp, clean. Blissful simplicity. Savor this moment. All we have and all we need is now. Feel free and therefore you are free.
Get the latest news and best deals to your inbox!